MediEvil Songs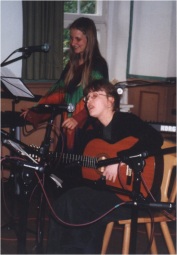 Wir haben für unsere Lieder den Überbegriff »Medievil Songs« gewählt - denn wenn es auch Ausrutscher gibt, Lieder, die sentimental oder einfach nur niedlich sind - ist unser Repertoire doch im Durchschnitt eher makaber bis böse. Wenn unseren Zuhörern am Ende das Lachen im Halse stecken bleibt, haben wir unser Ziel erreicht.

Trotzdem überwiegen doch die fröhlichen Gesichter - und wenn man es genau nimmt, sind unsere Lieder hochmoralisch: Die Dummen und Gierigen werden bestraft, nur die wahrhaft hohen Bösen, jene Schurken, die ausgefeilte, intelligente Pläne machen, dürfen triumphieren.

Ohne daß eine Absprache nötig gewesen wäre, haben wir die Art der Lieder unter uns aufgeteilt: Thesilée schreibt erzählende Balladen (die bis zu acht Strophen lang sein dürfen, und auch nur, wenn sie einen Refrain zum Mitsingen haben); Silvas Lieder sind Momentaufnahmen, hinter denen zwar ebenso komplexe Geschichten stecken können, deren Schwerpunkt jedoch mehr auf den Gefühlen der Figuren liegt.

Sogenannter Media Filk (Lieder zu Filmen, Fernsehserien etc.) fehlt bei uns nahezu völlig - einige Texte wurden von Rollenspielcharakteren inspiriert oder den Fantasybüchern, die wir selbst schreiben (nach dem Motto: Irgend jemand muß sie schließlich verfilken). Gelegentlich soll es auch zu Fällen von Parodien gekommen sein ...

Wir wollen die Welt mit unseren Liedern werder böser noch besser machen. Aber wir wollen Spaß an ihr haben können. Und damit das möglich ist, muß die Welt einige Kriterien erfüllen. Es gibt tatsächlich ein paar Lieder, die eine politische Aussage haben, die in unseren Zuhörern etwas bewegen wollen - Lieder mit Message, die man eigentlich nicht im entferntesten als Filk bezeichnen kann. Silvas Lament of a Mother ist ein solches Lied, oder Thesilées Paranoia.

In diesem Liederarchiv finden sich deutsch- und englischsprachige Titel bunt durcheinandergewürfelt. Insgesamt überwiegen die englischen Texte, weil sich diese international besser verkaufen - es gibt weitaus mehr Deutsche, die Englisch verstehen, als des Deutschen mächtige Anglophone. Darum findet sich auf unserem ersten Album Garden of the Lost auch nur ein einziges deutsches Lied, und auch das nur als Bonustrack, und auch nur, weil es uns nicht gelungen war, es rechtzeitig ins Englische zu übertragen (auf späteren Alben werden aber mehr deutschsprachige Lieder zu finden sein). Von einigen Titeln existieren auch Versionen in beiden Sprachen, diese sind dann zum einfacheren Vergleichen untereinander verlinkt.

Wir haben hier nur Stücke aufgeführt, die wir auch zusammen gespielt haben, denn eine vollständige Liederbibliothek würde jeden Rahmen sprengen und alle Übersichtlichkeit fahren lassen. Viele von Thesilées Solostücken finden sich auf ihrer Solo-Webseite Thesilee.de

Natürlich fehlen die Melodien - bis auf jene Titel, die auf der CD sind: Da gibt es MP3-Klangproben. Bei manchen Stücken sind auch PDFs mit Akkorden zum Download dabei. Ansonsten steht jedem frei, für ein Lied, dessen Text ihm gefällt, eine neue Melodie zu schreiben. Schließlich haben wir die Absicht, ins Volksgut einzugehen. Und ein wenig melodientechnische Vielfalt schadet uns auch nicht - wie Thesilées Mutter so schön sagte: »Covert doch auch mal ein paar andere Stücke! Eure klingen ja alle gleich.« Wir stellen das einfach so dahin und hüllen uns ansonsten in Schweigen…

Gibt es sonst noch etwas zu den Lieder zu sagen? Oh ja: Viel Vergnügen. Und: Nicht böse werden. Allerhöchstens mittelböse.
Und: Lernt die Refrains auswendig! Sie sind zum Mitsingen da! MediEvil Songs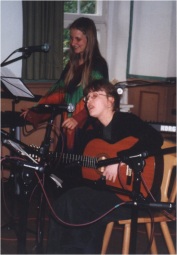 For our songs, we've chosen the generic term »Medievil Songs« - for though there are some gaffes, songs that are sentimental or simply cute - the quintessence of our repertoire rather ranges from macabre to evil. Wgen in the end our audiences laughter gets stuck in their throats, we've reached our goal.

Still, the happy faces prevail - and strictly speaking, our songs are highly moral: The stupid and the greedy get punished, only the truely evil one, those villains who plot on polished, cunning plans, may triumph.

Without need for arrangements, we've distributed the song types: Thesilée writes ballads that tell a story (and may have up to eight verses, and only if they have a chorus to join); Silva's songs catch a moment which may belong to a complex story as well, but whose emphasis lies on the characters' eotions.

We have hardly any samples of so-called Media Filk (songs for movies, TV-series etc.) - some lyrics were inspired by roleplaying characters or by the fantasy books we write (according to the motto: Well someone' s got to filk them after all ...). There is rumours of some parodies as well ...

With our songs, we don't want to make the world a better place, nor a worse one. But we want to be able to enjoy it. And to make this possible, the world needs to fulfil some criteria. So in fact, there are some songs the bear a political message, songs to move our listeners' minds - songs that actually can't be called filk. Silva's Lament of a Mother is such a song, or Thesilée's Paranoia.

This song archive contains a wild bunch of both German and English songs. Generally, the English texts prevail because they are more international - there are far more Germans who understand English lyrics than anglophones who speak German. That's why our first album, Album Garden of the Lost, contains only one German song, as a bonus track, and only because we thought it impossible to translate Die Flagge des Roten Todes into English (it is possible, in fact, and you'll find Banner of the Red Death in the database as well). There are some songs with lyrics in German as well as in English; they are linked so they can be easily compare.

This collection contains only songs we have played together, since a complete song library would go far beyond the scope forgo all clarity. Many of Thesilée's other songs are on her solo-webseite Thesilee.de

Of course the archive lacks all tunes - exceüt for the songs which are on the CD, we've got MP3 snippets for them, and some songs offer PDfs with chords and lyrics for download. Nevermind, for everyone is free to write a new tune for lyrics they like. After all, we intend to down in folk one day. And a little more variety of tunes won't do any harm - like Thesilée's mother said: »Cover some other songs as well! Yours sound all the same.« We leave this open as to whether and wrap ourselves in silence…

Is there anything else to say about our song? Of course: Have fun. And: Don't get evil. At the very most, medevil.

And: Learn the chori by heart! They are for joining!